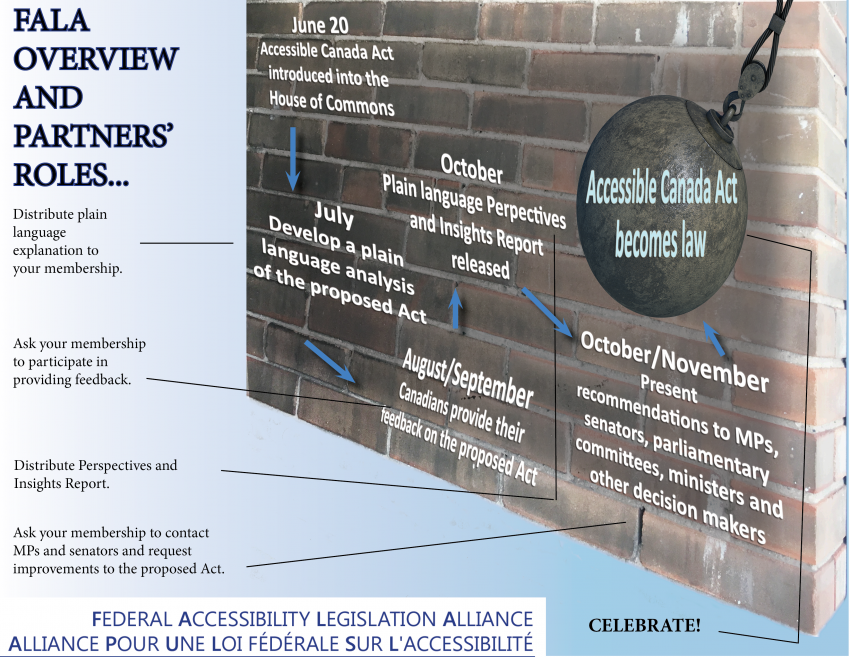 On June 20th, the Honourable Minister Duncan tabled Bill C-81 – An Act to Ensure a Barrier-Free Canada in the House of Commons. It is also being called the Accessible Canada Act.
The draft legislation can be viewed at: http://www.parl.ca/DocumentViewer/en/42-1/bill/C-81/first-reading
The Government's plain language version can be viewed at: https://www.canada.ca/en/employment-social-development/programs/accessible-people-disabilities/act-plain-language-summary.html
Since the tabling of Bill C-81, Prime Minister Justin Trudeau shuffled his cabinet. We now have the Honourable Minister Carla Qualtrough, Minister of Public Services and Procurement and Accessibility working with us. You may remember she was the first minister working on the legislation. You can find out more about her at: https://en.wikipedia.org/wiki/Carla_Qualtrough
For the past two years, the FALA leadership team held workshops, interviews and consultations among their memberships and developed the following reports to advise the government: https://www.include-me.ca/canadian-access-inclusion-project/consultationworkshop-reports They're all worth reading, but if you want to cut to the chase and see the summary report of the recommendations, here it is: https://www.include-me.ca/federal-accessibility-legislation-alliance/resource/canada%E2%80%99s-proposed-federal-accessibility
The introduction of the new, draft legislation brings us closer to a Canada that we have imagined for a very, very long time. Dare we say that accessible legislation brings us "hope"? Let's not jinx it.
The fact that the government has asked for our participation in helping to make this legislation a reality is a noteworthy, inclusive act. If you are involved with FALA you need to be ready to advise, inform and share your experiences. That's what this alliance is about.
We know our Canada will be richer with federal accessibility legislation. When truly included, people with disabilities will share important attributes such as perseverance, determination and creativity in their communities, in their workplace and with their families.
New legislation will help to move people from hospitals and institution to community member saving on healthcare costs. It will help to move people from social assistance recipients to tax payers.
There is a ripple effect. And at the centre of it all is inclusion.
What are our next steps?
Our lawyer panel has examined the draft legislation and we are almost finished preparing our own plain language interpretation of Bill C-81. As soon as it is ready, we will make it available to everyone. We are also comparing the legislation with the summary report mentioned above, to determine what is missing.
Once we have the report available, we are developing a survey to find out what all of you think about the proposed legislation and the impact it will have on your life. Stay tuned. We will be passing this information on very soon.
The attached image outlines what is yet to come beyond what's already described.
What can you do right now?
Share what we are doing with your membership, friends and family
Sign up for updates on our website: include-me.ca
Follow us/like us/share:
Facebook: facebook.com/includemeca
Twitter: @includemeca
That's it for now. If you have any questions, please use the contact us form on our website or drop us a line via our social channels.
"Individual commitment to a group effort--that is what makes a team work, a company work, a society work, a civilization work." --Vince Lombardi