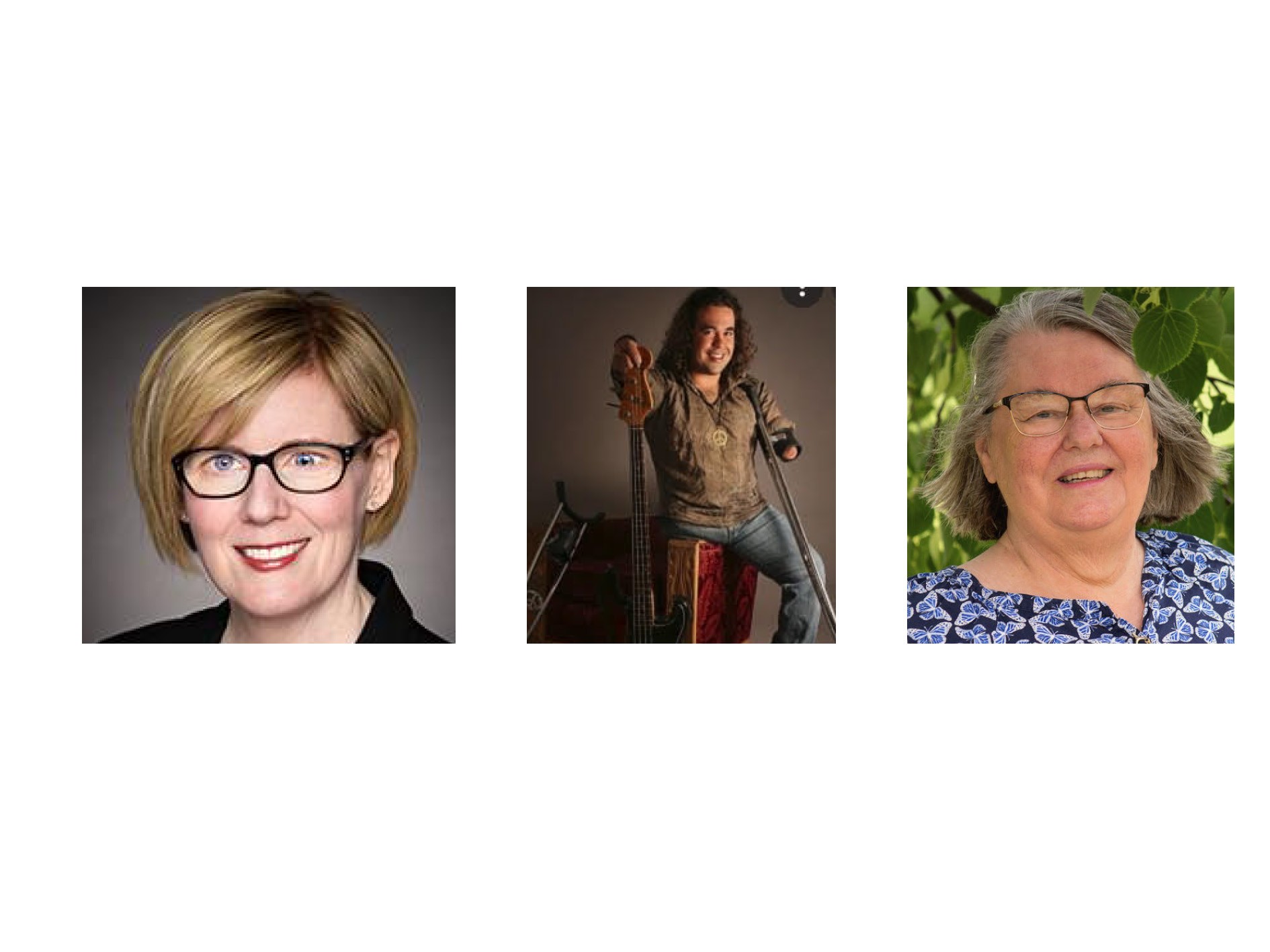 Hello & Bonjour!
Français à suivre
Join the fun at the next monthly RoundUp with Disability Without Poverty! Share in the incredible artistic community we have and celebrate our gifts and passions.
The Honourable Carla Qualtrough, Minister of Employment, Workforce Development and Disability Inclusion will join to discuss the Canada Disability Benefit (Bill C35) that she introduced in Parliament on June 22nd. In addition, we will enjoy the musical stylings of renowned Quebec rockstar Martin Deschamps and the poetic musings of Jayne Melville Whyte.
Disability Without Poverty is a grassroots movement led by people with disabilities with room for all Canadians to join. They want people with disabilities to be prosperous, realize our power, pursue our passions and participate in every aspect of society. The Monthly RoundUps will be a time to share stories and ideas from people with disabilities all across the country.
If you didn't get a chance to join their June RoundUp, they promise fun, hour-long sessions, full of art, music, poetry and updates about the work that is happening.
Here are the details:
Where: Online (Zoom) - you will get the link when you sign up
Date: Thursday, July 8, 2021.
Time: 12pm Pacific Time/3pm Eastern Time.
Guests:
Hosted by Luca Patuelli, with guests: poet Jayne Melville Whyte, musician Martin Deschamps, and the Honourable Carla Qualtrough.
Who: Everyone! ASL, LSQ, English closed captioning, as well as Simultaneous French translation, will be provided.
Would you like to share your art during one of our future RoundUps? Disability without Poverty would love to hear from you! Please connect at events@disabilitywithoutpoverty.ca.
----------------------------
Participez au prochain RoundUp mensuel de Handicap sans pauvreté ! Partagez l'incroyable communauté artistique que nous avons et célébrez nos dons et nos passions.
L'honorable Carla Qualtrough, ministre de l'Emploi, du Développement de la main-d'œuvre et de l'Inclusion des personnes handicapées, se joindra à nous pour discuter de la prestation canadienne pour personnes handicapées (projet de loi C35) qu'elle a présentée au Parlement le 22 juin. De plus, il y aura du temps pour apprécier les styles musicaux de la célèbre rockstar québécoise Martin Deschamps et les rêveries poétiques de Jayne Melville Whyte.
Le handicap sans pauvreté est un mouvement populaire dirigé par des personnes handicapées et auquel tous les Canadiens peuvent se joindre. L'organisme souhaite que les personnes handicapées soient prospères, prennent conscience de leur pouvoir, poursuivent leurs passions et participent à tous les aspects de la société. Les RoundUps mensuels seront l'occasion de partager les histoires et les idées des personnes handicapées de tout le pays.
Si vous n'avez pas eu l'occasion de participer à leur RoundUp de juin, ils promettent des sessions amusantes d'une heure, pleines d'art, de musique, de poésie et de mises à jour sur le travail en cours.
Voici les détails :
Où : En ligne (Zoom) - vous recevrez le lien lorsque vous vous inscrirez.
Date : Jeudi 8 juillet 2021.
Heure : 12 h, heure du Pacifique, 15 h, heure de l'Est.
Invités :
Animé par Luca Patuelli, avec des invités : la poétesse Jayne Melville Whyte, le musicien Martin Deschamps et l'honorable Carla Qualtrough.
Qui : Tout le monde ! Le sous-titrage ASL, LSQ et anglais, ainsi que la traduction simultanée en français, seront fournis.
Aimeriez-vous partager votre art lors de l'un de nos prochains RoundUps ? Le handicap sans pauvreté aimerait avoir de vos nouvelles ! Veuillez vous connecter à events@disabilitywithoutpoverty.ca.