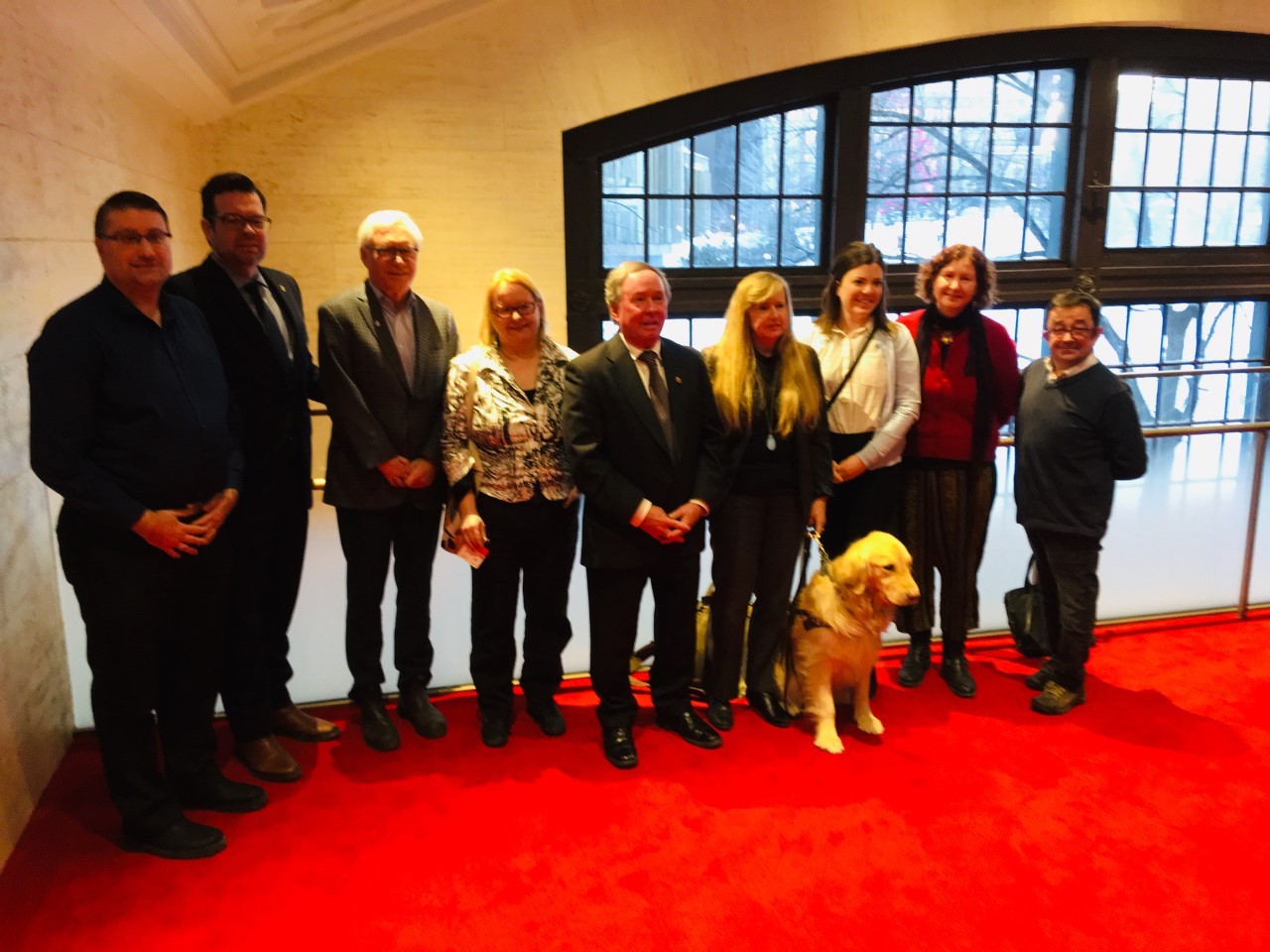 français à suivre
February 19-22 the FALA Leadership Team was in Ottawa. We met with ten senators, Minister Qualtrough and the Accessibility Secretariat to discuss our 11 recommendations [2]. These recommendations were developed with our 89 partners and 90 members, working towards our goal of a strong and effective Accessible Canada Act.
We had the chance to be in the Senate Gallery to witness Senator Munson introduce Bill C-81 by delivering his Second Reading speech [3]. It was a really good one. Don't take our word for it… read it yourself. And thereafter began the Second Reading debate.
When his speech was over, Senator Munson met up with the FALA Leadership Team privately. He told us about his father, who had been a United Church minister. When Senator Munson's dad died, many people told him that he had big shoes to fill. So, when Senator Munson got up to deliver the second reading speech in the Senate, he made sure he was wearing his dad's shoes. They are slightly too long, but he puts them on every time he has something big and important to do.
We thought he filled his daddy's shoes just fine that day.
Soon Bill C-81 will be off to the Senate committee to be further discussed. We hope they will make the changes we have recommended. We will keep you posted.
Meanwhile, the Accessibility Secretariat (the government staff department responsible for setting up the Accessible Canada Act) are working on finding office space for CASDO (the Canadian Accessibility Standards Development Organization). They will soon be posting applications for the positions at CASDO. They are full steam ahead so that if/when Bill C-81 is approved we can all get a move on.
For further information, watch out for our next blog, or sign up at www.include-me.ca/join-us [4] to get updates sent straight to your inbox.
________
Un retour à Ottawa pour une visite au Sénat
Du 19 au 22 février, l'équipe de direction de l'ALFA était à Ottawa. Nous avons rencontré dix sénateurs, la ministre Qualtrough et le Secrétariat de l'accessibilité pour discuter de nos 11 recommandations [5]. Ces recommandations ont été élaborées avec nos 89 partenaires et 90 membres, dans le but de réaliser notre objectif d'une Loi canadienne sur l'accessibilité, forte et efficace.
Nous avons eu la chance d'être à la tribune du Sénat pour assister à la présentation du sénateur Munson pour introduire le projet de loi C-81. C'était un vraiment bon discours. Vous ne nous croyez pas, lisez vous-même [6]. Par la suite, le débat de la deuxième lecture a débuté.
Par la suite, le sénateur Munson a rencontré l'équipe de direction d'ALFA uniquement. Il nous a parlé de son père, qui avait été ministre de l'Église. Lorsque le père du sénateur Munson est décédé, de nombreuses personnes lui ont dit qu'il avait des grandes chaussures à remplir. Donc, quand le sénateur Munson s'est levé pour parler, il la fait à l'image de son père. Il explique que les chaussures sont un peu trop longues, mais il les met chaque fois qu'il a quelque chose d'extraordinaire et d'important à faire.
Nous pensions qu'il remplissait parfaitement l'image de son père.
Le projet de loi C-81 sera bientôt renvoyé au comité sénatorial pour un examen plus approfondi. Nous espérons qu'ils apporteront les modifications que nous avons recommandées.
Nous vous tiendrons au courant. Entre-temps, le Secrétariat de l'accessibilité (le service gouvernemental chargé de mettre en place la Loi canadienne sur l'accessibilité) s'emploie à trouver des bureaux pour la CASDO (l'organisation canadienne d'élaboration de normes d'accessibilité). Ils afficheront bientôt des candidatures pour les postes à CASDO. Ils sont à toute niveaux, de sorte que si le projet de loi C-81 est approuvé, nous pourrons tous passer à l'action.
Pour plus d'informations, surveillez notre prochain blog ou inscrivez-vous à www.include-me.ca/join-us [4].